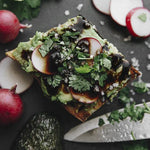 A millennial breakfast classic. Hearty bread toasted until just crisp, creamy mashed avocado, thinly sliced radishes, Italian parsley, rock salt and to top it all off, a pomegranate balsamic drizzle. It's a great combo!
How to Make the Best Avocado Toast
1) Pick great avocados
You want ripe but not over-ripe Hass avocados. Look for avocados that yield a bit to a gentle squeeze, but avoid using avocados that are mushy or stringy on the inside. If you run into any bruised or brown bits when you cut them open, scoop those out and discard before mashing the rest.
2) Buy good bread and toast it well
I think sturdy, thick-sliced, whole grain bread make the best avocado toast. Golden, well-toasted bread offers a sturdy base and a crisp, shattering contrast against the creamy avocado.
3) Mash your avocado separately
Mashed avocado is more creamy and luxurious than sliced avocado (think guacamole vs. plain avocado). But don't mash it on the toast! You risk poking holes in your toast or smashing it. Cut your avocados in half, remove the pit, scoop the flesh into a bowl or onto the side of your plate, and mash it up with a fork.