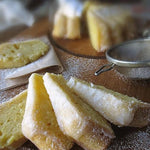 ITALIAN LEMON & OLIVE OIL POUND CAKE
INGREDIENTS
1 cup all-purpose flour
1 tsp. baking powder
½ tsp. kosher salt
2 large eggs
½ cup granulated sugar
Finely grated zest of 2 lemons
1/3 cup extra virgin olive oil
1 ½ tablespoons whole milk
¾ cup ricotta cheese (can substitute Greek yogurt)
¼ cup fresh lemon juice, strained
3 ½ tablespoons unsalted butter, melted
LEMON GLAZE:
1 cup powdered sugar
1 ½ tablespoons fresh lemon juice
INSTRUCTIONS
Preheat the oven to 165 C. Line the bottom of 23 x 11 cm loaf pan with parchment paper, butter the pan and the paper.
In a bowl, sift together the flour, baking powder, and salt.
In a bowl of an electric mixer, combine the egg yolks, granulated sugar, and lemon zest. Beat at medium speed until the mixture thickens, is pale yellow, and forms ribbons when the whisk is lifted, 3-4 minutes. Allow to sit.
In a separate bowl, beat (or, whisk) the egg white to stiff peaks. Set aside.
Meanwhile, in another bowl, whisk together the extra virgin olive oil, milk, ricotta cheese, and lemon juice. Slowly drizzle in the oil mixture with the mixture in the electric mixer with the machine running. Reduce the speed to low, add the flour mixture, and mix just to combine. Add in the butter and mix just to combine.
Remove the mixing bowl from the stand mixer and fold in the stiff egg whites.
Pour the batter into the prepared baking pan. Bake, rotating the pan once after 25 minutes, until the top of the cake is golden, the center bounces back when touched, and a toothpick inserted in the center comes out clean (about 45 minutes.)
Carefully remove the cake from the loaf pan and let it cool completely on a wire rack.
While still warm, prepare the glaze. Combine the lemon juice with powdered sugar until smooth. Add more lemon juice if needed for desired consistency. Pour over the pound cake and let it set. Enjoy!
Serve with
Sprinkle with icing sugar and
serve with Natural or Greek yogurt