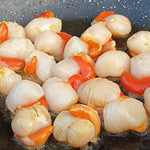 INGREDIENTS
  500gm

.

 

sea scallops

 

(about 15 scallops).

  ½

 

teaspoon

 

kosher salt

  ¼

 

teaspoon

 

black pepper

  ¼

 

teaspoon

 

garlic powder

  1

 

tablespoon

 

unsalted butter

  1

 

tablespoon

 roasted garlic infused 

olive oil
INSTRUCTIONS
Rinse the scallops and pat them dry with paper towels. Sprinkle them with kosher salt, pepper and garlic powder.

Heat the butter and olive oil in a large (14-inch), heavy bottomed skillet, over medium-high heat, about 3 minutes.

Add the scallops in a single layer, making sure they don't touch each other.

Sear the scallops about 3 minutes on each side. You want a nice brown crust on both sides, and you want the internal temperature, as measured by an instant-read thermometer (make sure it doesn't touch the skillet) to reach 45 degrees C. When fully cooked, the inside should be white and moist. Serve immediately.