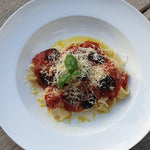 Nothing beats this for a quick and easy dinner.  The chorizo adds a little kick but if you like things a little hotter add some fresh or dried chilli.  As an alternative to the chorizo you can use bacon or salami but the the deep flavour of a good chorizo and the fattiness of the sausage melts into everything to create a wonderful sauce.
Ingredients
Divinity Extra Virgin Olive oil
knob of butter
Garlic, 3-4 cloves crushed
1x punnet of cherry tomatoes
1 -2 Chorizo, sliced
½ red onion, sliced thinly
1x courgette, chopped
Parmesan
Chopped Italian (or flat leaf)parsley
Fresh basil
½ packet dried spaghetti pasta
Method
In a large pot of boiling water cook your spaghetti.  While your pasta is cooking heat a pan with 3-4 generous tablespoons of olive oil and the butter.  Gently sauté the garlic, red onion & chorizo for 3-5 minutes.  Add the cherry tomatoes & season.  When the tomatoes begin to break down add courgettes and basil & cook for 3- 4 more minutes.
Toss through the drained cooked pasta with freshly chopped parsley & grated parmesan and serve immediately.
Cooking perfect pasta
When cooking pasta you need a large pot of water.  The large pot of water means that when you add the pasta to the boiling water the temperature won't drop too much, keeping a rolling boil which will help to stop your pasta from sticking.  The larger volume of water also means that the starches from your pasta are dispersed, avoiding cluggy pasta.
Bring the water to the boil before adding the salt.  Salted water takes longer to come to the boil.  And be generous with the salt.  The Italians say the water you cook pasta in should be as salty as the Mediterranean.